It's been hard for anyone following video game news to avoid the Xbox acquiring Activision Blizzard news since it was announced in 2022. This has been a roller coaster ride of news, and frankly, some people just want it to be over with. That said, we have had a big round of news that we otherwise would never know about revealed to us after the FTC vs. Microsoft Court cases. Here are the 10 biggest things we learned.
10 important news to know from the FTC vs. Xbox court case
Activision almost took Call of Duty away from Xbox
A large portion of the discussion surrounding the Activision Blizzard deal has been around the future status of Call of Duty. Will it be an Xbox exclusive, and what platforms will it come to in the future? While that is the focus, Xbox vice president Sarah Bond revealed that there was a time Bobby Kotick threatened to take the series away from Xbox Series X unless they paid a higher revenue share. It is unknown if he also did this with PlayStation 5, but Microsoft gave in to his demands to prevent Sony from getting full exclusive support for Call of Duty.
Horizon Forbidden West and The Last of Us Part II production costs and estimated earnings
Horizon Forbidden West and The Last of Us Part II have been two of Sony's biggest success stories on the PlayStation 5. Along with God of War, they are currently the biggest franchises under the PlayStation umbrella. While we knew they were successful, we now have an estimate of how well they did financially. In a poorly redacted document, we found that development for both games cost Sony over $200 million. That doesn't include marketing. It is estimated that both games made over $300 million in profit individually.
Indiana Jones game will be Xbox exclusive
When Todd Howard and MachineGames announced a new Indiana Jones game in development, Zenimax had not been acquired by Microsoft yet. At that time, it was planned to release on multiple platforms. However, since the deal has gone through, it is now an Xbox and PC exclusive, also releasing on Game Pass day one. While the game was coming to PlayStation initially, Xbox reworked a deal with Disney to make it exclusive as a counterpoint to Sony's exclusive agreement with Spider-Man.
Pete Hines isn't happy that Bethesda games are exclusive while Activision's wouldn't be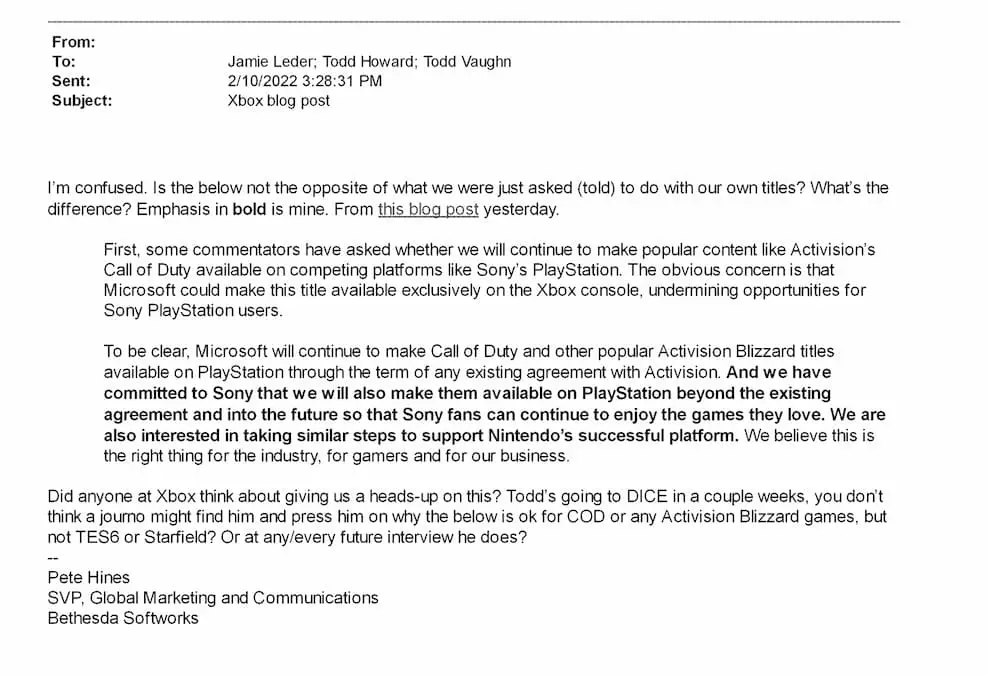 In a round of emails from Bethesda executive Pete Hines, we discovered he's quite frustrated that Bethesda games are Xbox exclusive while Activision games would remain multiplatform if the deal goes through. In February 2022, he questioned why there was a difference between the companies when one giant franchise like Call of Duty can be on everything, but Starfield and The Elder Scrolls VI would be exclusive. Of course, Phil Spencer also said that they hadn't decided if Elder Scrolls will be exclusive yet, so maybe Hines has made some headway on that conversation since.
Phil Spencer swears under oath Call of Duty will still come to PlayStation, and Jim Ryan won't provide Activision with PS6 dev kits if the deal goes through
As stated above, there's been a lot of talk about Call of Duty exclusivity in the future. While Xbox has said multiple times that they won't willingly take Call of Duty away from PlayStation, the judge asked Phil Spencer to swear under oath that Call of Duty will continue to come out on PlayStation 5 and future PlayStation consoles. In the same vein of this discussion, PlayStation CEO Jim Ryan said in his deposition that Sony would not share its PS6 dev kits with Activision if Xbox acquired them. With them being a direct competitor, he says he will not let them have access to that information. Of course, he didn't discuss the need for the next Xbox dev kits with future MLB The Show and Bungie releases.
Starfield was on track to be a PlayStation exclusive
It is well-known that Sony likes to make exclusive deals with developers and publishers so they won't put games out on other platforms. Even when Xbox acquired Bethesda, Sony already had a deal to do this with Deathloop and Ghostwire: Tokyo. Starfield was going to be the next game on this list, so Xbox felt compelled to acquire Zenimax to prevent that while lining up its own exclusive catalog.
The next Nintendo console's power is similar to the PS4 and Xbox One
In the line of questioning with Activision president Bobby Kotick, the rightfully criticized head revealed that the company has been working with Nintendo to get Call of Duty on their next console. He said the upcoming console's power is close to the eighth-generation consoles, those being the PlayStation 4 and Xbox One. Given that the Switch is so underpowered, this isn't particularly surprising, especially if the next console is a direct follow-up to the Switch. Nintendo doesn't try to outperform PlayStation and Xbox in terms of power. Rather, it tries to provide unique experiences.
The next PlayStation and Xbox generations are expected to release in 2028
Especially with the pandemic drastically affecting everything in recent years, it feels like the PlayStation 5 and Xbox Series X are just getting going. However, an Xbox document revealed that the next generation of consoles is expected to release in 2028, just five years from now. That is not taking into consideration any mid-cycle refreshes. Things can change before then, but this would be one year longer than the PlayStation 4 and Xbox One had before the PS5 and Series X came out.
Xbox admits they lost the console war
With a court case like this, you can expect plenty of accusations aimed at making the opposing party look worse. In a case that is the opposite, Xbox conceded that they lost the console war against PlayStation and Nintendo. PlayStation has been the most popular console choice since it debuted in the 90s. Nintendo had a massive misstep with the Wii U, but both the Wii and the Switch were bonafide successes, especially compared to anything that Xbox has released.
Xbox's list of companies they have been interested in acquiring
Even taking Activision out of the equation, Xbox has been on a spending spree over recent years. They've been acquiring plenty of game studios, but we got a good look at a lot more they considered. Notable names include Square Enix, Sega, Bungie, Zynga, and IO Interactive, among others. Some of these were situations where they had a working relationship with the company. Others just strictly had desirable catalogs to add to Game Pass or to help give Microsoft a foothold in mobile markets.