Before you read this article, hit play on this video and listen to it the entire time you're reading. No, seriously. There is no better way to set the vibe. 
Is it playing? Good. We're ready then. So, now let's talk about Sonic Adventure 2.
Whether we're discussing the game design, music choices, characters, or the subcultures this title indulges in, Sonic Adventure 2 was a pivotal, game-changing moment in both gaming and internet culture. From the Dreamcast to the GameCube, Sonic Adventure 2's legacy is a celebration of creativity and absurdity that shaped a generation. But how exactly did one Sega game become such a cultural touchstone? 
A darkly heroic origin
To get the full scope of Sonic Adventure 2's journey, let's talk about its history. Sega released Sonic Adventure 2 — the 37th Sonic game in the franchise — on the Sega Dreamcast in June of 2001. However, Sega was already in the process of discontinuing the Dreamcast, meaning they couldn't only sell Dreamcast copies of the game and hope to make a profit from all their hard work. So, a few months later, Sega ported Sonic Adventure 2 to their rival's console — the Nintendo GameCube. 
Diving a bit deeper, we head to the storytelling and plot of this Sonic installment. Now, while the story of Sonic Adventure 2 is a bit convoluted, it's ultimately one of the game's greatest successes. The plot is split in two: Hero and Dark. In the Hero campaign, you play Sonic, Tails, and Knuckles. In Dark, you play Shadow, Eggman, and Rouge the Bat. You whir through parallel levels until the two stories merge and you finish the game with all 6 characters.
Considering the popularity of Shadow as Sonic's edgy doppelganger, his inclusion thrilled many fans and made the game even more appealing than the Sonic titles of the past. And then the game they built around that heroes and villains concept? Well, it gave an immaculate space for the jocks, goths, jokesters, geeks, and creatives to have fun and play. A Breakfast Club of video games, one might say. 
How they made Sonic Adventure 2 work
However, an effective, culture-colliding concept is useless without execution. And Sonic Adventure 2 excels in game design, especially when it comes to the action and pacing. The 3D platforming was intuitive, the game mechanics were full of energy. People played Sonic Adventure 2 like a virtual X-Games. However, the game also had other effective elements to appeal to a wide range of players, from a flexible multiplayer mode, to mini-games, and even pet-focused side quests. Sonic Adventure 2 connected all these popular gaming concepts of the early 2000s — extreme sports, prankster vibes, cozy pet care, mecha geeks, a dash of emo, and enough frenetic energy in between to keep millions of brains entranced.
This game reached its peak during the City Escape level, one of the most famous levels in any Sonic game. Modeled on San Francisco and its many hilly roads, Sonic and/or Shadow begin by grinding through the streets on a metal snowboard, then bouncing between gymnastic rings and ramps as you run away from mechs and a giant truck that says "gun". It gives you all the rad and extreme — and a little cringey — vibes you know and love from the early 2000s, but it leans in so hard to that young millennial appeal that it kind of becomes perfect. 
Sonic Adventure 2 and subcultures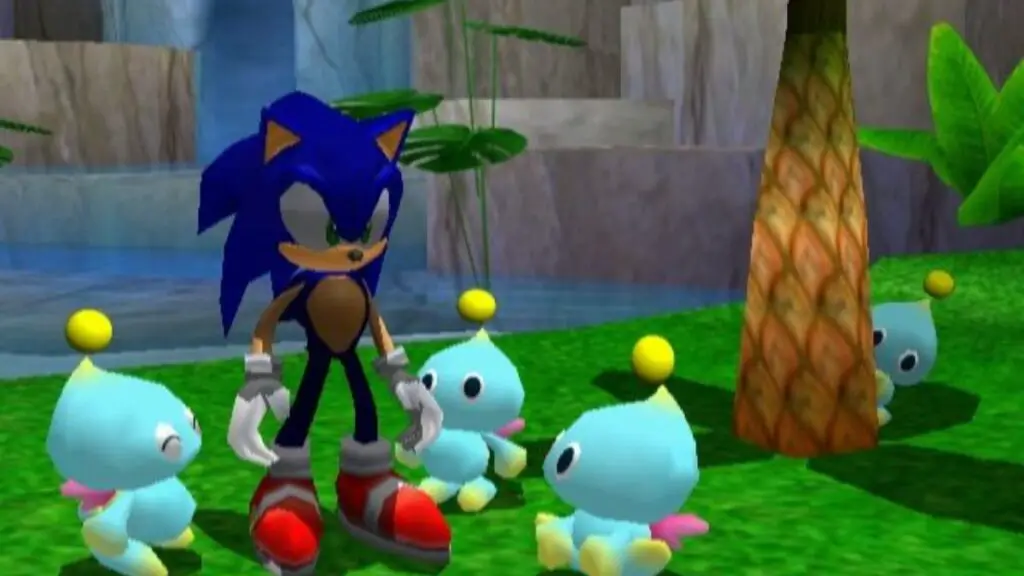 But it doesn't end there. The rest of the game is fully fleshed with a variety of whacky subcultures and fascinations.
We have Tikal and the desert ruins for the 2000s kids obsessed with Egyptian Mythology and Yu-Gi-Oh. Rouge the Bat and Pumpkin Hill live to give the kids a dash of goth and Nightmare Before Christmas. Shadow and the Death Chamber level champion the emo/edgy culture with every piece of dialogue and violent trap that makes you want to blast Death Cab for Cutie on your iPod. Sonic and Knuckles are the epitome of weirdly intense sports/skater bros, and the skateboard/snowboard/extreme sports elements of the gameplay really drive that home. The Mad Space level, Eggman, and the mechs are for the science nerds who stayed up way too late watching Battle Bots. And Tails gives us that dash of a well-meaning soft boy, as do all the sweet little Chaos you get to take care of. It's Nintendogs, Tomagachi, and Furbies all over again. 
Everything about Sonic Adventure 2 — the characters, the story, the design— is a perfect mix of subcultures all wrapped up in a game so addictive it spoke to, infested, and inspired the collective consciousness. This game tapped into this perfect microcosm, making itself beloved by fringe kids and popular trendsetters alike. Just when the internet was blooming as a concept, a bunch of young people came together. They may have all had different interests, but Sonic Adventure 2 made them feel some type of way.
What a lot of us younger folk didn't have the words for yet is that the game made us feel seen and gave us a place to explore the perhaps more "cringey" parts of our personalities we secretly enjoyed without judgment or fear. Edgy, extreme, soft, emo — Sonic Adventure 2's celebration of these concepts inspired us, and later helped fuel what the internet would become. Because what is the internet but a place to be our most wonderfully cringey authentic selves? 
An intermission about the history of the internet
Think about your favorite teenage social media sites. Twitter, MySpace, YouTube. All of them started spawning across the internet from 2003-2006. However, fandom spaces like Fanfiction.net launched in 1998, a mere 5 years after the internet became accessible to the wider public. Before social media hit its stride, people came together in forums, geeking out about their favorite subjects, be it politics (The Straight Dope), PC building (AnandTech), flash games and animations (NewGrounds), and even pre-Reddit free-for-alls (Usenet). As the internet's evolved, it's become a haven for subcultures to collect, connect, and build communities. 
Without social media sites becoming an aggregate for these kinds of thoughts and feelings, all this connectivity went a little more under the radar for the average person. So, few games in the early 2000s embraced that internet energy — full of subcultures and unrelenting authenticity — in the same full-chested way as Sonic Adventure 2. It bridged the gap between the new internet and the generation of kids that would eventually populate it with memes and all the other things we love about being online.
Sonic Adventure 2's celebration of subculture is how, though the Mario franchise has more widespread popularity, Sonic spent much of the early 2000s dominating online fan culture spaces. For example, when comparing them on Fanfiction.net, Mario only has 11.9k fics while Sonic has 42.3k. Similarly, on the now most popular fanfiction site, Archive of Our Own (AO3), there are 17.4k Sonic fics compared to Mario's 7k.
Fanfare around classic platformers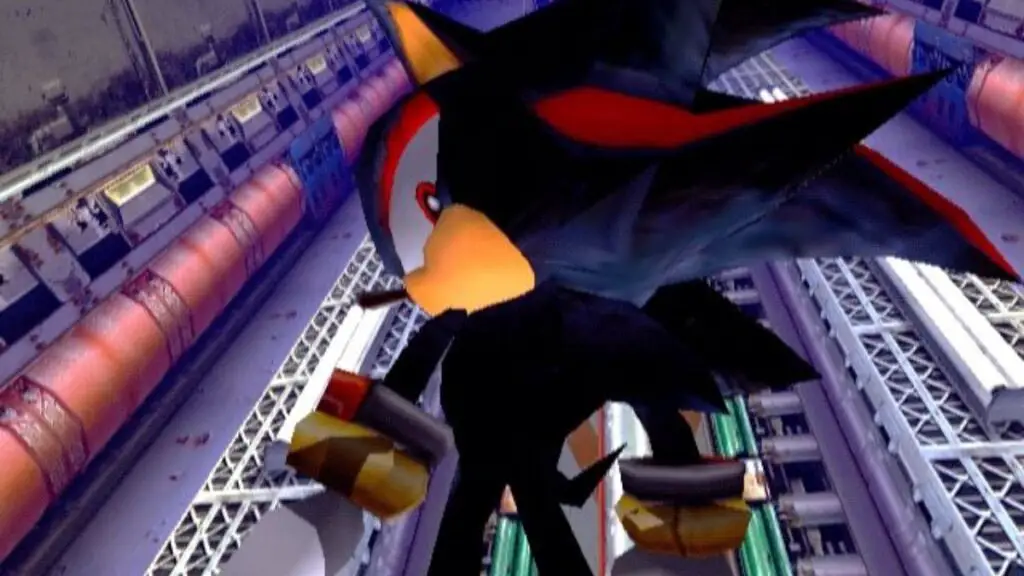 While Nintendo's Mario franchise has the ubiquitous appeal and the money, there's always been something about Sonic that just gets people. It inspires them. Touches a part of them that is creative, dorky, and wonderful. Sonic Adventure 2 reveled in the childhood/teenage fantasies of being cool and excitable and edgy. Young people latched onto that and it became the exact kind of energy we adopted on the internet, where we feel invulnerable and anonymous.
Trading out our name-tagged backpacks slung around our shoulders for Sonic, we could be as edgy and experimental as we wanted, and love our weird interests just as much as Sonic loves chili dogs or Shadow loves unnecessarily dramatic entrances.  
Sexuality and Sonic
If you need any more proof, just look at the Sonic fandom as a whole. Many creators of Sonic fanart use the Sonic lore to play with societal norms, be it gender, sexuality, relationship dynamics, and more. Sonic set itself up as a safe place to do this because it already proudly tied itself to subcultures and "fringe" society. It became the mascot. And even when Sonic fandom got especially weird, it wasn't some big secret hidden in the dark corners of the internet.
Openly popular content creators like Dorkly and Drawfee joke and celebrate the Mpreg/slash fiction/balls-to-the-wall absurdity that came with the Sonic fandom. It's truly a delight to watch Karina Drawfee's entire "Sonic Butthole" saga throughout their videos. Sonic made it safe to be fucking weird, and whether you like the weird or not, that's amazing. It helped shape our much more weird-friendly generations now, and the very weird internet culture we all enjoy. 
Celebrating Sonic Adventure 2
Many games are dorky and cheesy and roll with that, especially old arcade titles like Mario or Pac-Man. However, no one embraces the goofy, edgy, cringey, wonderfulness of being a kid/teenager like Sonic. And given the time frame, at the dawn of the social internet, that's why Sonic Adventure 2 became such a formative force in internet culture. More people may buy a Mario game, but even more people have used a Sonic meme, and that's beautiful. 
So, Sega, thanks for creating this fantastic game that celebrates and connects all these loveable weirdos like the underside of a local bridge — just a bunch of cybergoth teens jamming out to their favorite songs. The internet's all the better for it.