With the Minecraft Trails and Tales update, there are a lot of new features for players to get familiar with. The new archaeology items add a new layer to the gameplay that wasn't there before. That said, you can't just go anywhere and find these ancient items. Here is how to find Suspicious Sand and Gravel in Minecraft.
Where to find Suspicious Sand in Minecraft
To find Suspicious Sand in Minecraft, you will need to search in specific locations. In Desert biomes, they can be found underneath water blocks in Desert Wells and at the bottom of Desert Pyramids. In Warm Ocean biomes, they can be found around Ruin structures. The Suspicious Sand found in Warm Ocean Ruins is the only place you can find Sniffer Eggs.
Whenever you come across Suspicious Sand, use a Brush on it. If you break it apart with any other tool, it will be destroyed for good, and you will not get any potential item hidden inside. Even if you have Silk Touch, it will be broken.
Where to find Suspicious Gravel in Minecraft
In contrast to the sand variant, Suspicious Gravel only appears in two locations in Minecraft. It can appear in Cold Ocean Ruins, similar to the warm ocean ones, just made with stone instead of sand. Additionally, Trail Ruins can have Suspicious Gravel that appears in place of regular Gravel.
What is the difference between suspicious and regular blocks?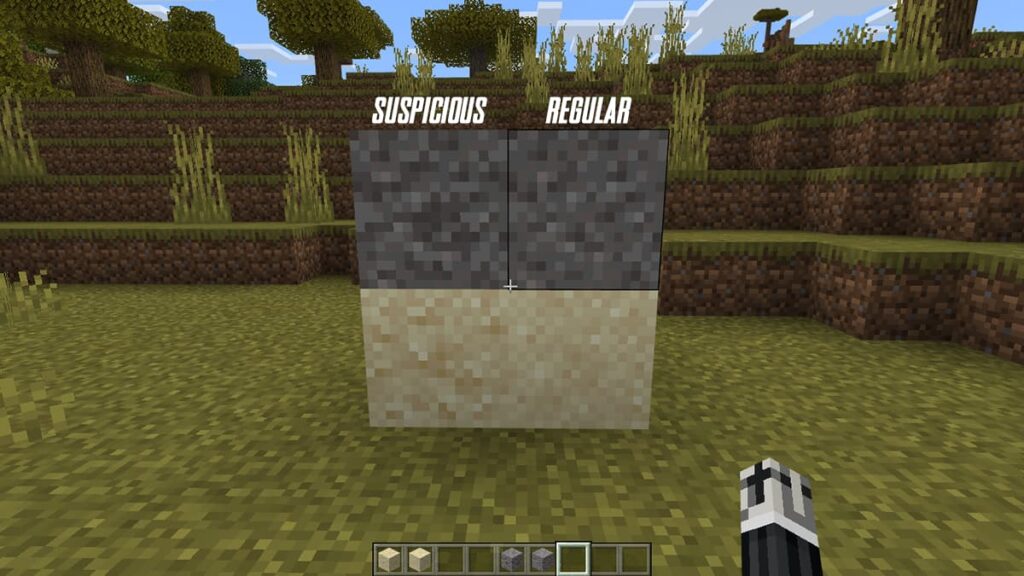 You might have trouble discerning it from normal blocks when you first see Suspicious Sand or Suspicious Gravel in Minecraft. From a looks standpoint, Suspicious blocks have more dark pixels than normal ones do. Suspicious blocks are on the left in the image above, with the regular versions on the right.