How do you start as the Dark Crusader in Lords of the Fallen? The Dark Crusader class is the one that has been featured in almost all of the Lords of the Fallen trailers and has been the poster child of the game's advertisements. With that being said, many started the game up expecting it to be a starting class only to realize that it is not one of the starting choices.
Standard players are only able to choose from nine different starting classes with the Dark Crusader not being among them. The standard classes are Hallowed Knight, Udirangr Warwolf, Partisan, Mournstead Infantry, Blackfeather Ranger, Exiled Stalker, Orian Preacher, Pyric Cultist, and Condemned. This guide will show you how to start as the Dark Crusader class in Lords of the Fallen.
How to unlock the Dark Crusader in Lords of the Fallen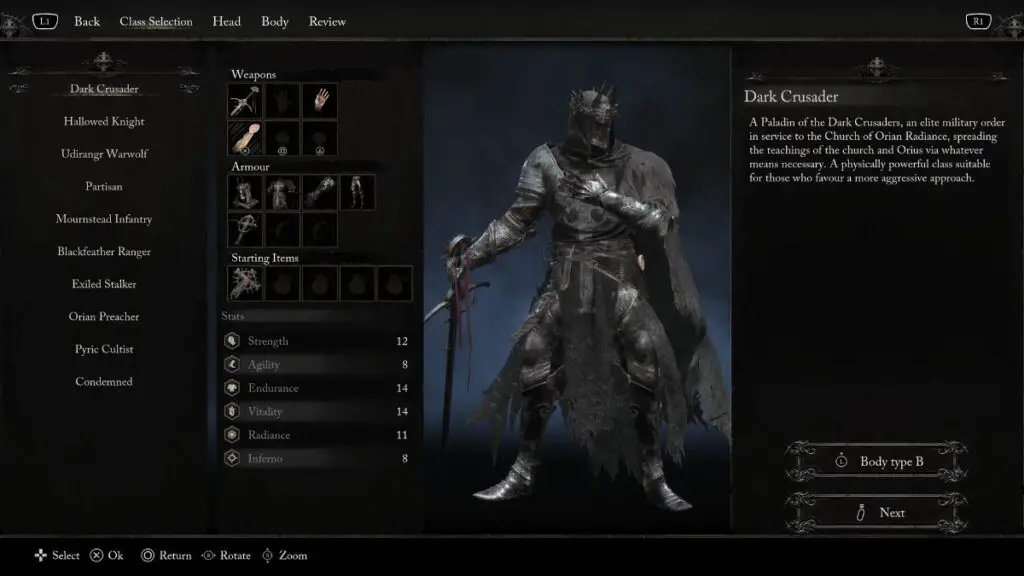 There are two ways that you can unlock the Dark Crusader in Lords of the Fallen; by unlocking it in the game and purchasing it. Let's start with purchasing it. Those who bought the deluxe edition of the game get early access to the Dark Crusader class without needing to unlock it later on. This is great for those who want to spend the extra money to get the class. If you don't there is another option.
To unlock the Dark Crusader without purchasing it, progress through the game past the tutorial boss. After this, go out of the boss arena, hang a right, and follow the path to an item called the Flayed Skin. Once you have this, you will need to locate four Umbral Stigmas throughout the game. These can be found in the following areas:
Lower Calrath
Fief of the Chill Curse (Beginning)
Fief of the Chill Curse (After Lightreaper's Arena)
Path of Devotion
When you have found all of the Umbral Stigmas and completed Isaac's questline, you will unlock the Dark Crusader Class in Lords of the Fallen.
Lords of the Fallen – Dark Crusader Starting Equipment
The Dark Crusader in Lords of the Fallen starts the game with the following equipment:
Weapons – Paladin Isaac's Sword, Throwing Hand, Radiantburst Parchment
Armour – Paladin Helm, Paladin Armour, Paladin Gauntlets, Paladin Leggings, Paladin's Pendant
On top of this, you also get the following stats:
Strength – 12
Agility – 8
Endurance – 14
Vitality – 14
Radiance – 11
Inferno – 8
The Dark Crusader is basically a paladin and even comes with a thrown weapon that is essentially a radiant hand grenade that deals massive damage early on. This strong class is among the best in the early game.