The Overwatch 2 Sombra rework has been revealed for the start of Season 7, which begins this coming Tuesday. Below is an image that shows her whole kit, and if you have been playing her since Overwatch 2 launched, be ready to approach her in a new way very soon.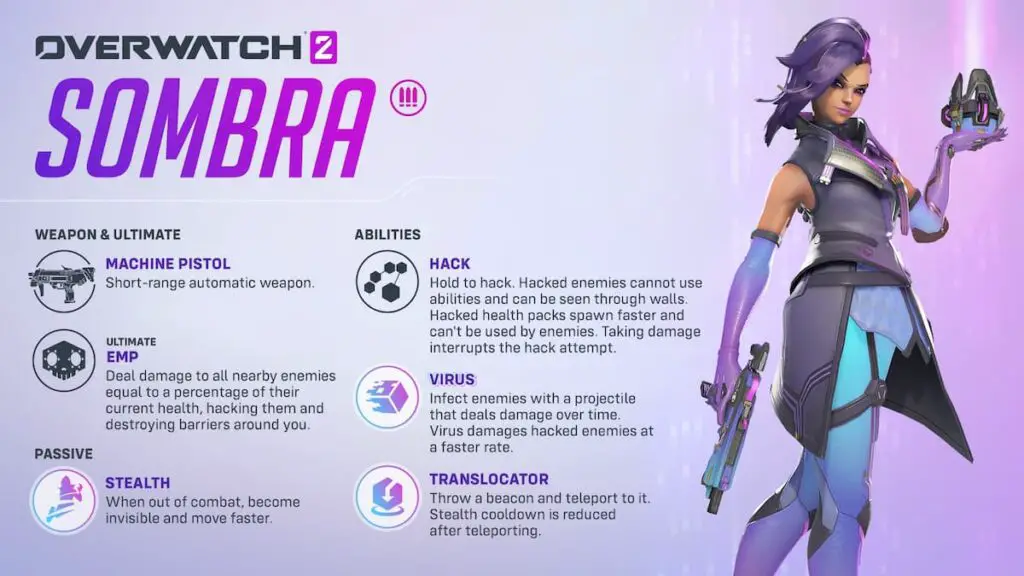 Probably the biggest change for Sombra is that Stealth is no longer an ability that players activate with a button press. It will be a passive ability that replaces Opportunist (deal more damage to hacked enemies) and automatically turns her invisible when she is not being damaged, dealing damage, or using one of her abilities. We imagine that being close to enemies will still reveal her, but now it seems that she can remain invisible indefinitely. Some will likely scoff at that idea, but anyone who stays invisible for a whole match isn't helping their team.
Translocator has also been changed. No longer can you place it in a safe spot to teleport to when you get into trouble. Wherever it lands, you will be instantly teleported to. This will force her to be committed to engagements instead of teleporting across the map at the first sign of trouble.
Virus is a completely new ability that seems to be a projectile shot that will deal damage over time to an enemy it hits. It will do double damage and deal it faster if the enemy is hacked. Without seeing this in action, we would speculate that this is a good way to finish off squishy enemies.
While Sombra's Machine Pistol, EMP, and Hack don't appear to have any big changes in the image above, Blizzard did note in the blog post that it has been tweaked, so we will need to wait until the update to see how differently they perform.
Overall, we are excited to see the new Overwatch 2 Sombra rework. We like the approach to make her more committed to team fights than dipping in and out with her Translocator. The Stealth passive teamed up with Virus may cause headaches for enemies, so there is potential for her to be a better assassin pick.