I have never reviewed a racing game before because I generally tend to avoid the genre after failing tremendously at them over the years. Being a Disney adult, however, I needed to try Disney Speedstorm. Despite my aversion, I took the wheel and started my engine. I am happy to report that I made it to the finish line and had a decent ride getting there. 
Disney Speedstorm has a lot going for it that reminded me of racing games I've played in the past such as Mario Kart and, well, Mario Kart. There are many mechanics that allow for a wide range of playstyles whether you want to be a defensive racer or someone who flies down the track at breakneck speeds. Disney Speedstorm encapsulates the best and worst of what I think a racing game should be.
A real friendship ender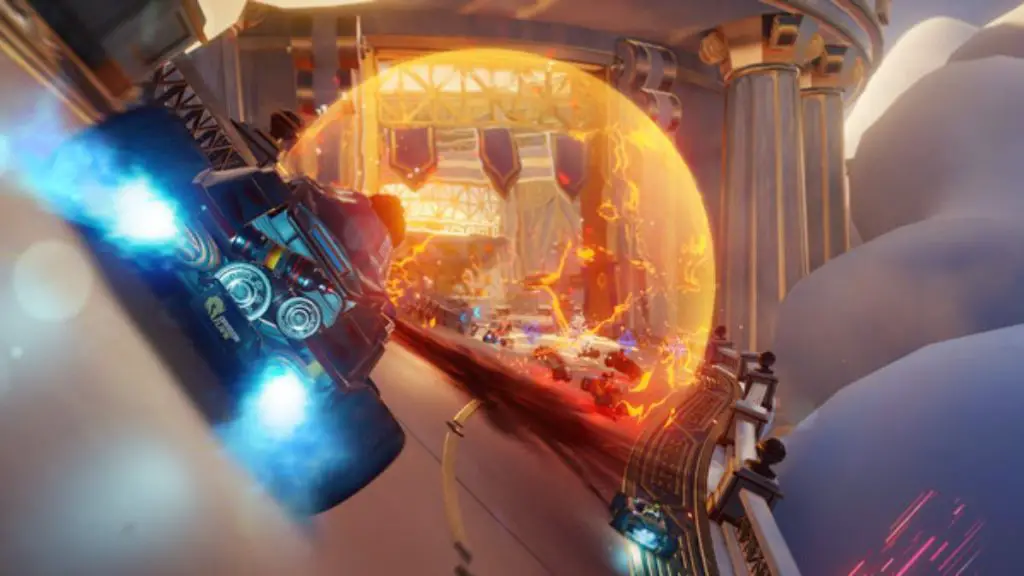 Disney Speedstorm is a battle racing game, meaning if you aren't prepared to slam into other racers, you aren't going to make it to the finish. As you fly down the track, you will collect items you will use to stall your opponents and attempt to reach the end first. The fast and aggressive nature of the races kept me on the edge of my bucket seat and ready to brutally dominate my opponents. 
I found the combative gameplay of Speedstorm to be both exhilarating and infuriating (in a good way). While I am typically not a competitive person, this game brought out the side of me that wanted to bring down anyone who got in my way. The use of items made everything fun and the wide range of items the characters can get makes each racer feel special. 
There are 18 racers, each having their own stats as well as unique car parts that allow you to customize them and play how you want. There are four roles with each racer being assigned to one of them; Defender, Trickster, Brawler, and Speedster. Each type of racer has its own strengths and weaknesses that you can take advantage of. Combined with special and unique abilities, you can really build a racer that you can call your own. 
Variety is the spice of life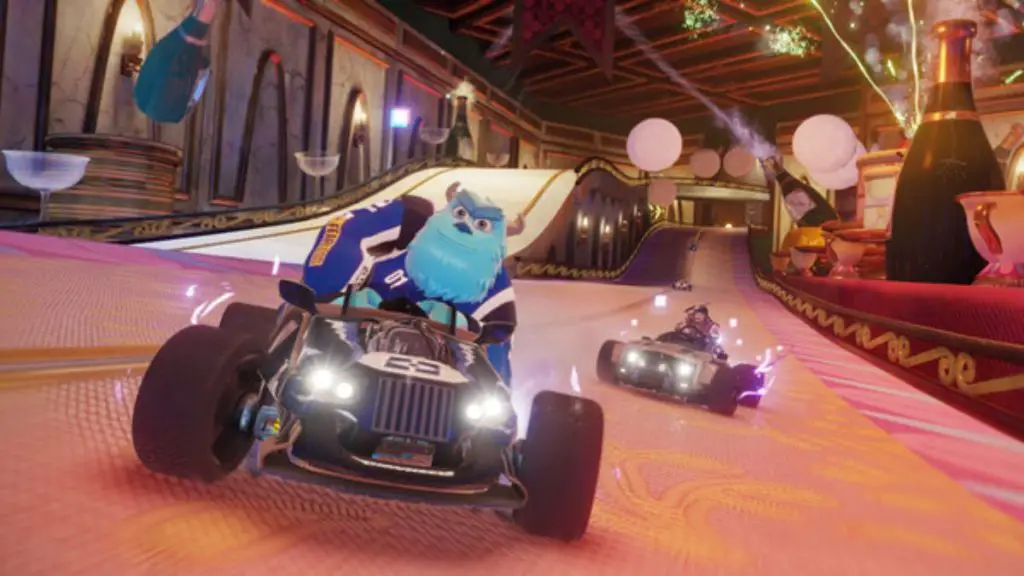 There are only nine tracks in the game at the start but that number is deceptive since each one has at least four different track layouts that will take you through different parts of the area. Each of the maps is designed after famous Disney franchises like Pirates of the Caribbean and Mulan. This keeps things changing and allows every race to feel different than the last. 
Each track has something that makes it stand out. As you race through Mount Olympus, you will see fireballs crash into the track and as you joyride through the Silver Screen, you will be treated to a monochrome filter reminiscent of Steamboat Willie. Gameloft translated the idea of a true Disney experience and brought it into Speedstorm in a great way. 
I personally had an issue with the way that many of the characters are restyled. While recognizable, each character feels almost like a cheap knock-off of the original character. Without the name Elizabeth Swann being there, she could easily be mistaken for any of the Disney princesses with blonde hair. Other characters feel slightly off like Gameloft didn't get the full licensing to use each character's likeness. It makes the game feel weird but doesn't completely take away from the experience. 
Pit stop
Speedstorm has the potential to become pay-to-win, or, at the very least become overly saturated with microtransactions. The game features a major grind that keeps you gathering tokens to unlock additional racers. This is okay for the first few unlocks, but becomes dry after the third or fourth racer. There are also multiple instances where the game forces you into other screens to perform upgrades or show you another racer when you are still getting used to the one you started with. 
On the technical side, the game can lag a bit when playing on console, specifically the Switch,  since it generally runs at 30FPS. Playing on PC, I didn't notice any lagging or frame drops. 
The verdict
Overall, Gameloft did a great job recreating the look and feel of Disney worlds from all corners of the Disney-verse despite the characters looking slightly out of place. The gameplay is fun, combative, and can easily trigger that competitive spirit just like a game of Mario Kart. The grind, however, will infuriate many on another level. 
I had a great deal of fun playing the game and enjoyed the overall experience as it stands, yet I do feel like the game could potentially be pay-to-win in the future. Gameloft will have to make sure Speedstorm doesn't slip into that category once it goes free-to-play later on. 
Disney Speedstorm was reviewed on PC but is also available on Xbox One, Xbox Series X/S, PS4, PS5, and the Nintendo Switch. 
The Review
PROS
Tracks have tons of variety to keep them feeling fresh
Combative gameplay has a great twist with build potential
Great mix of characters from across the Disney franchise
CONS
Potential for it to become pay-to-win
Characters feel like imitations of themselves
Handheld version has many issues