If you follow the co-op game scene at all, you've no doubt been seeing this cute penguin mountain-climbing adventure all across the internet. If you haven't, let me formally introduce you to Bread & Fred, an adorable pixel art platformer where two penguins — the titular Bread and Fred — tie themselves together and try to climb to the top of the mountain beside their penguin village. While the vibes are immaculate and the challenge is fun, Bread & Fred as a game isn't as easy or cozy as its wholesome design might suggest. This can become a huge obstacle for some players who come into the game hoping for a low-key climb. 
A Fine-Feathered Adventure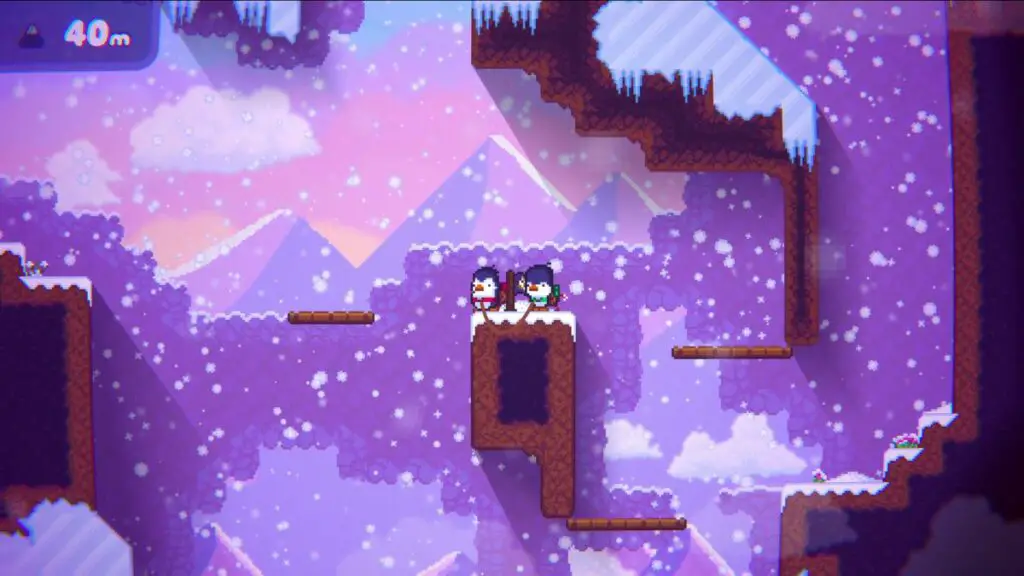 Bread and Fred is arguably one of the cutest games of 2023. Creating a pixel-art game and populating it with bright colors and penguins is a simple but genius design. This platformer feels like an old friend and a new challenge all at once.  It mixes the modern love for cozy games with the old-school charm of the OG platformers like Super Mario Bros. or Ice Climbers. Meanwhile, the physics of Bread and Fred are innovative and well thought out enough to make the game feel unique and daring all on its own. 
On paper, it's a wildly effective indie game, accomplishing exactly what it sets out to do. It's charm, it's innovation, it's nostalgia, it's modern. When it comes to game design, Bread and Fred ticks all the boxes if you're looking for a new and fun platforming experience. 
Also, when it comes to working through the game, it tries to be as accessible as possible. There's a single-player option, checkpoint tools, a countdown tool that helps you and your partner time your jumps, and you can fiddle with the settings to make the game as easy (or hard) as you want. All you need is good communication skills, platforming abilities, and you're good to go. 
However, the game's biggest gimmick and well-thought-out success is also where it falls a little flat. 
Bread and Fred Platforms Hard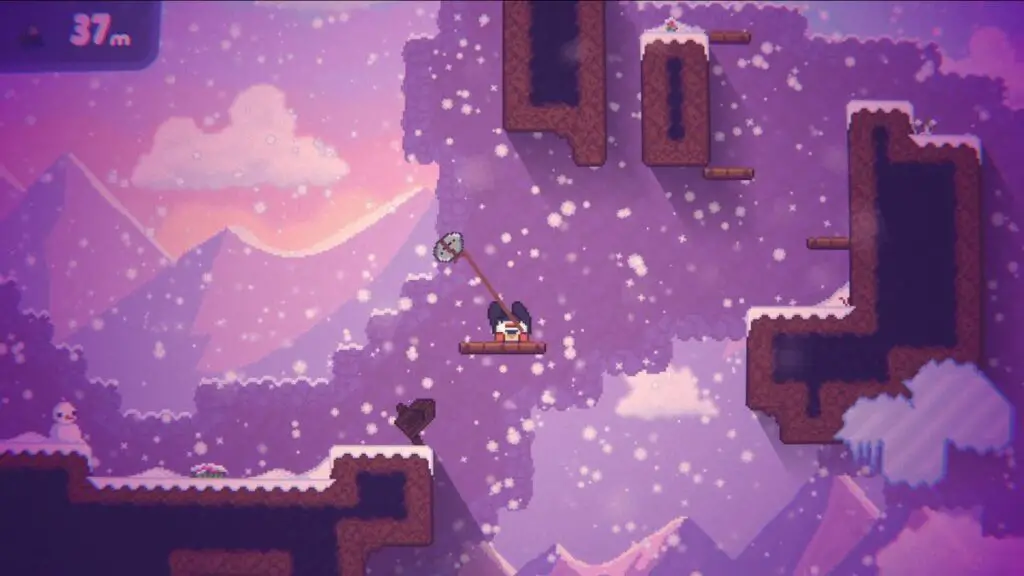 While it's great that Bread and Fred developers added so much accessibility, those accessibility tools aren't always as intuitive or have their intended effect. 
For example, take the single-player mode. There's no way to sugarcoat it — it's not particularly fun. If anything, it's a little depressing. You now play as Greg and, instead of having a buddy at the end of your rope, you have a rock. A little funny, but if you wanted a cozy, wholesome, feels-good game, the joke turns a little morbid amidst all the surprisingly dark stories of heartbroken pairs who never made it to the top of the mountain. Also, if you aren't there for the game mechanics of hardcore platforming, playing with Greg and his stone isn't exactly easy or intuitive. While single-player mode can be a fun challenge for people who are really into hardcore platforming, it can kind of become a skill-capped bummer for anyone who went into the game wanting a cozy solo experience. 
Meanwhile, Bread and Fred does give you a bunch of tools to make communication and the game easier, but it doesn't advertise them well. They show up on the main screen as "assist options" but many players will look right past that and go straight into the game. Nothing on that first screen explains how useful they are regardless of skill level. I only knew to look for them because I heard a streamer mention them. After that first screen, you can only find them by going into the settings menu unprompted and discovering them yourself.
So, if you don't know what they are or how to go looking for the assist options, you and your partner could spend hours struggling to time your jumps without the helpful countdown tool. Or, if you don't use checkpoints, you and your partner could end up dramatically falling halfway through the entire map and losing all your progress. And if you aren't here for that intense level of success vs. punishment, it could quickly turn you off the game.
Most notably, if you are two players with very different gaming abilities, playing this game without communication tools could go from fun to frustrating in one poorly timed rope launch. And even then, the tools might not be enough to make it a fun game for you and your partner unless you are both gung-ho about platformers. Bread and Fred is a well-thought-out platformer with cool mechanics, but it's not as easy or fluffy as its art style may imply. Non-platforming-gamers —or non-gamers entirely — beware. 
Beginners' Beware
This leads us to the biggest disclaimer about Bread and Fred: This is not a game to get your non-gamer partner or friends into gaming. It may look cute. It may look simple. But unless you both have some idea of what you're doing, or you as the gamer friend/partner have a lot of patience, this game will get easily frustrating. 
For example, my spouse and I are both avid gamers. We play games with friends and each other online multiple times a week. I even report on video games (see this article). Yet, platformers are my kryptonite. They look so fun, but I'm not very good at them. And when we started playing Bread and Fred, it really showed.
Despite the fact we as a couple are excellent with co-op communication-based games (Overcooked, PlateUp, and Keep Talking or Nobody Explodes) that communication could not always make up for my lack of platforming skills. Yes, in the case of some platforms, if I missed the jump my spouse could just pull me up. However, as the game went on, you start running into moving platforms or collapsible ones, and we had to rely on both of us being able to land every leap — something I could only do with about 70% accuracy. And then once I started getting tired? That went down to about 40-50%. And while the game isn't made to be grueling, the platforming is not forgiving, so my inability to perform became an obstacle and a limiter.
My spouse (as well-meaningly as possible) began passive-aggressively using the Anchor button (X) to make Fred do a cranky squat whenever I missed a jump.
I mean it when I say Bread and Fred can have some intimidating Pogostuck-style energy, especially if you do not use the checkpoint tool to save your progress. And we all know how tilted that can make people, let alone if you're relying on a friend/partner.
If you're thinking of buying this as a cute couples game or a friend hangout with someone who isn't into games, for the safety of your relationship think twice. It's a very solid game, but it's not for the absolute novice. Not unless you want to risk a possible fight afterward when one accidental jump makes you tumble all the way back to the penguin village. 
Pixelated Almost-Perfection
Bread and Fred is a cute and well-made game, but just because it's cute doesn't mean it's for everyone. Don't let the fantastically adorable and cozy art fool you into starting tension and fights that didn't need to be started. Nor should you think the single-player mode will be a comfy afternoon; your platforming muscles will be tested. But if you and someone you love are both cuckoo for cocoa puffs when it comes to platformers, there are few better games to scratch that itch.