There are many reasons video game culture can be so fun, and a lot of that is due to the fandom communities. Yes, some fans are the worst, but the good ones — the ones where people come together to enjoy their favorite video games and create their own art to celebrate the things they love — that's where the magic is. As we get closer and closer to Legend of Zelda: Tears of The Kingdom, we at Game Sandwich want to celebrate the franchise's community as much as the game itself. And today, we want to highlight one wonderful fan comic. A fan comic that asks: what if young Link was adopted by the Gerudos? 
Let's talk about Growing up Gerudo, drawn and written by Junior and Roy. 
Legend of Zelda lore logic
A little bit of context. The lore behind Legend of Zelda is that the Hero of Time and his story are cyclical. Link, Ganon, and Zelda are incarnated over and over throughout the centuries to fight the same battle for the fate of Hyrule. But the circumstances of this conflict change depending on the way the world around them evolves. In Twilight Princess, Midna and The Twili Realm became involved because of their concurrent political struggle. In Ocarina of Time, the Deku Tree inspires Link while Na'Vi accompanies him on his journey filled with time shenanigans. Every situation is different. However, the villain (Ganon), a descendent of Hylia (Zelda), and a Hero of Time (Link) always return. 
A paternal twist
In Growing up Gerudo, someone abandons a young baby Link in the desert. Afterward, he's found and adopted by none other than the Gerudo king himself, Ganon. Together they create an unorthodox found family and survive the struggles of Link's heritage, Ganon's own corruption, and their mutual destiny. It's a heartfelt, queer adaptation of the Legend of Zelda that uses the franchise's own lore and rules to craft a unique version of the Hero of Time and his fated enemy. Except this time, his "fated enemy" is his beloved father. 
While Growing up Gerudo celebrates some of the Legend of Zelda's lore with repeat characters (Midna, Nabooru, Sheik, Impa, etc.), the story also adds new personalities and dynamics. Nabooru becomes Ganon's doting partner, and Link grows up alongside memorable characters like Vridi and Sika. Vridi is a trans scholar/diplomat with hopes of becoming King one day, and Sika is a strong woman with a lot to learn about Hyrule. Also, while so many other Zelda adaptations focus in on the kingdom of Hyrule or the simple woodlands, Growing up Gerudo lets the Gerudo Desert take center stage. Throughout the comic, you get a clear and welcome understanding of Gerudo's delicate, intricate politics, female-forward society, and uniquely progressive culture. 
A sincere recommendation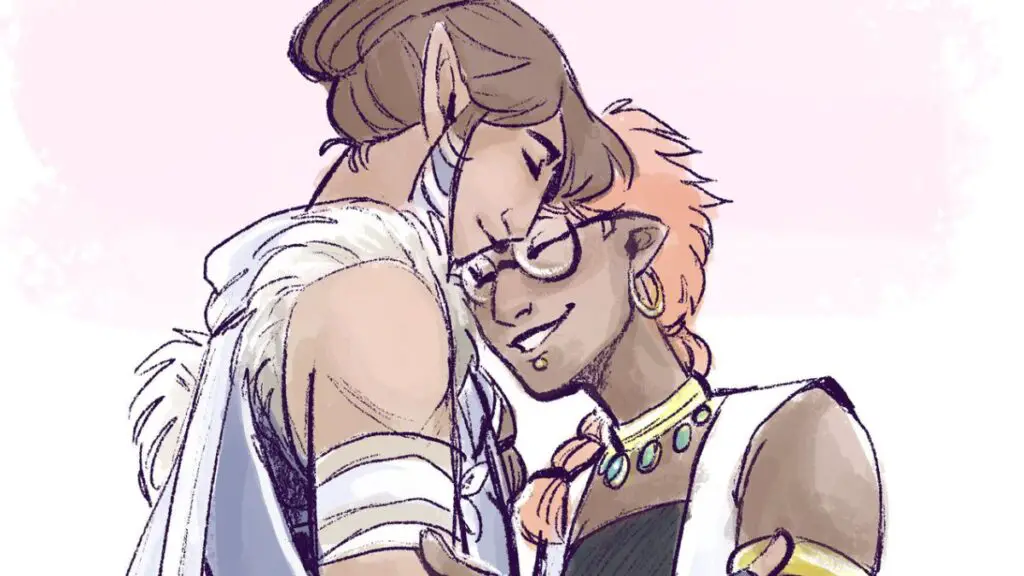 If you ever wanted Link and Ganon's characters to have more depth and to go through more personal growth, there are few reads better than Growing up Gerudo. In the confines of the Nintendo games, Link and Ganon are forced to be simple adversaries, but this comic lets their characters breathe and have complex motivations and goals. And it's fascinating to see their conflict strained — and strengthened — by their bonds as father and son. 
We can't gush about the comic too much without spoiling it, but between the gorgeous, deliberately rough line art and the loveable characters, Growing up Gerudo is a perfect way to celebrate the fandom around the Legend of Zelda. It explores some of the best parts of the franchise and then expands on them, creating a thrilling, new, and wonderful story.
While we all wait a few more days for Tears of the Kingdom, give Growing up Gerudo a read. It should be a great way to hold yourself over until you can have the newest Zelda game in hand.