Disney Dreamlight Valley now has multiplayer features that you can access thanks to the DreamSnaps update. This mechanic allows you to take on challenges to get additional Moonstones that you can use for the premium shop. Each time you take a new photo that matches the criteria set for the challenge and submit it, you will get bonus Moonstones.
You can get more Moonstones with this feature by voting for your favorite photos as well. Of course, if you want to participate, you need to know how to complete a Dream Snaps challenge. This guide will show you how to complete a Dream Snaps Challenge in Disney Dreamlight Valley.
How to submit a DreamSnaps photo in Disney Dreamlight Valley
To complete a DreamSnaps challenge in Disney Dreamlight Valley, start by going to the menu. Once you are in the menu, navigate to the events tab. Here, you will see a new pulldown menu beneath the current Star Path that is labeled DreamSnaps. Here, you can see the current DreamSnaps challenge and the requirements.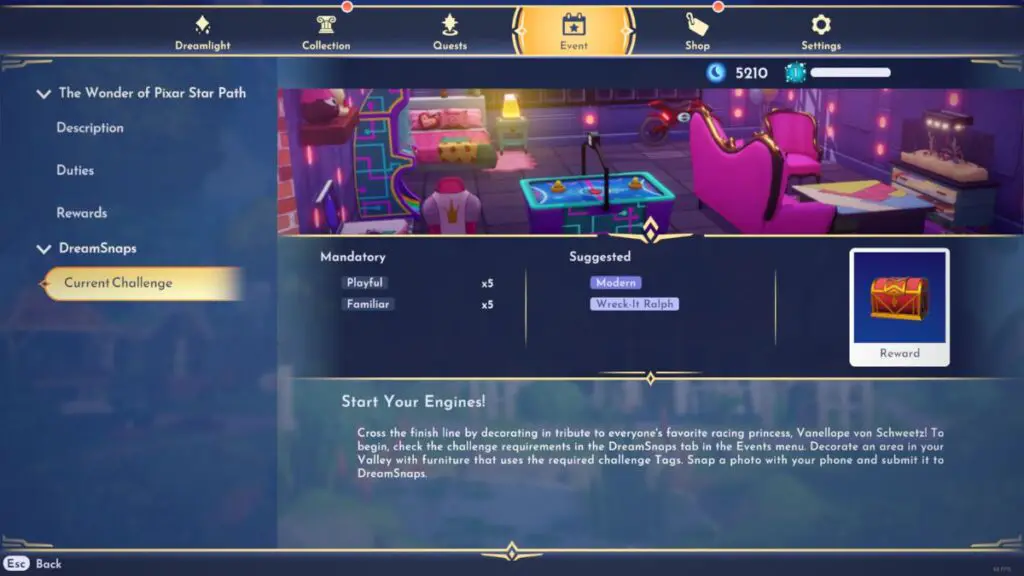 To complete a DreamSnaps challenge, you will need to set up a photo that meets the mandatory requirements. In the photo above, the requirements are five playful items and five familiar items.
Once you have everything set up, you simply need to take a photo. Use your in-game camera to snap a picture of the items you have placed.
After taking the picture, check the menu in the bottom left corner to see which button you need to hit to bring up the DreamSnaps requirements. One PC, this is the D key. You will see a menu pop-up that shows you if you have completed the mandatory requirements for the photo. If you have, a prompt will appear to submit the photo for review.
Submit the photo to have it reviewed. You will immediately get 50 Moonstones for participating in the challenge. You can earn more by voting later in the week as well. If your photo does not meet the requirements, simply add more items that match the current challenge and take another picture.