Vanellope is the latest character introduced to Disney Dreamlight Valley with the DreamSnaps update. Like all of the other characters in the game, she has an entire questline for you to follow. Her level four quest is called Ready Player Fun and it tasks you with helping the princess find a hobby.
During the Ready Player Fun quest, you will be tasked with finding Vanellope as she runs off to play hide 'n' seek. Don't worry, she offers you a few hints to help locate her hiding spot and you are able to ask for help if you get lost. Where is Vanellope's hiding spot in the Ready Player Fun quest in Disney Dreamlight Valley?
'Dark and Dangerous' hiding spot location in Disney Dreamlight Valley
After reaching level four with Vanellope, she will give you a quest called Ready Player Fun. During this quest, she will ask that you track down her favorite hiding spot. This isn't the easiest location to find. Luckily, you can ask other residents for help.
The location of Vanellope's hiding spot is someplace 'Dark and Dangerous.' There are a few places that come to mind such as the Forest of Valor and the Forgotten Lands. Vanellope's hiding spot is neither of those areas. If you want to find Vanellope, head to the Vitalys Mines in the Sunlit Plateau biome.
Once you are inside the mines, you will find a trail of candy. This trail of candy will go to the left of the entrance and down to where the rails cross. Continue along the path and head to the left. Vanellope will be found a little further in the mine.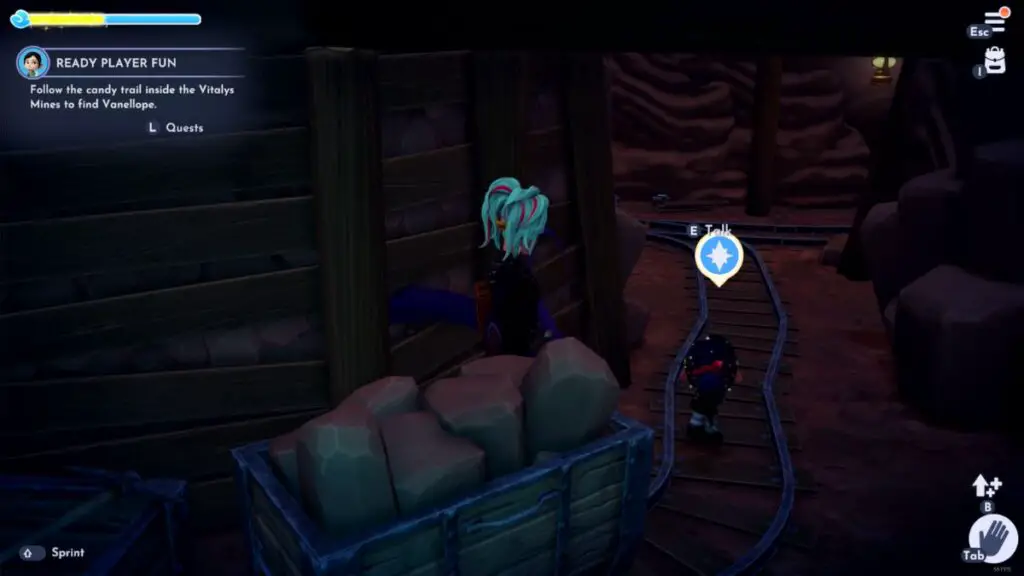 After you find Vanellope, she will want you to race her to the exit of the mine. Hope you remember how to get out cause this race counts. Rush out of the mine and meet Vanellope at the entrance to continue the quest.