Do you feel like setting passwords on your various accounts online has gotten a little out of hand? Well, now there is a free browser game that will make you appreciate how simple those practices are. In The Password Game, you will come up with various word sets as different rules are implemented. At rule 5, you will see, "The digits in the password must add up to 25." Here is how to do that.
How to do Rule 5 in The Password Game
You will need to play around with your numbers to get your digits to add up to 25 in The Password Game. In Rule 2, you had to add at least one number, but obviously, now you need more. You need to put in various digits that, when added together, equal exactly 25. Doing anything less or more will make you fail that rule.
For this rule 5 in particular, we recommend using 997. This will give you the desired equation so you can move on to the next rule. Keep this combination until you reach Rule 15 which requires you to put in a leap year. Put 2020 and change your original combination to 993 to continue. There is also a chance that rule 10's captcha will include numbers. If that is the case, just minus them from your 997. We are unsure if there are additional rules that will require you to change this.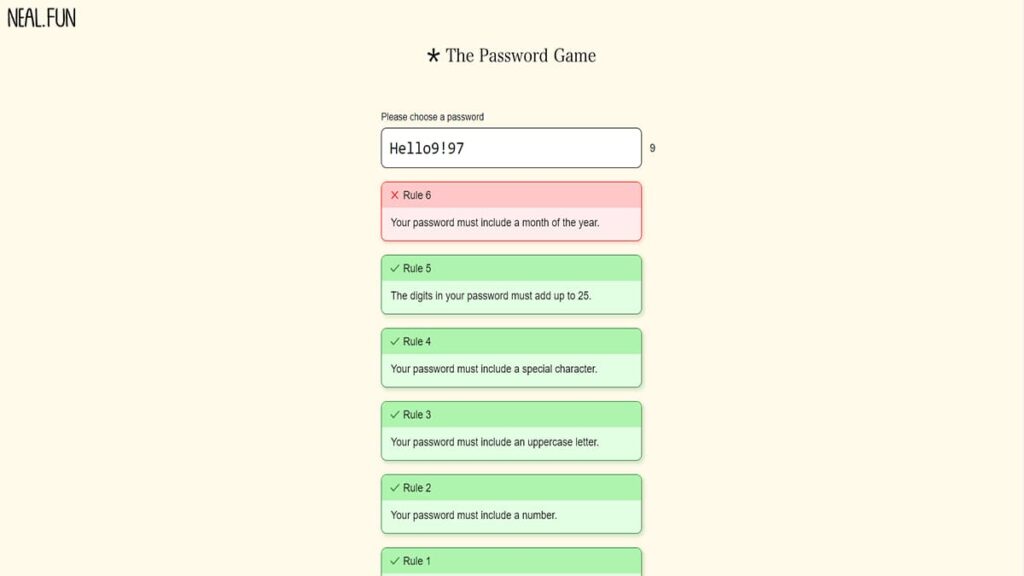 Later rules in The Password Game can be very challenging. Many odd stipulations are thrown into the mix that can potentially have you scratching your head. Some of these rules will also change with various situations. For example, you will need to put the current moon phase as an emoji at some point. The game is unquestionably a challenge, so be ready to change your number combo if needed.