One of the things that has helped Call of Duty Zombies stand out is the series' willingness to have unexpected features. In the past, these Easter eggs would require you to find special things to do within the map, and then the game would reward you with something special. In MW3, there are fewer of these than normal, but if you keep your eyes peeled for a particular item, you could get a companion. Here is how to get a pet dog in Modern Warfare 3 Zombies.
How to do the pet Hellhound Easter egg in MW3 Zombies
To get a pet dog in Modern Warfare 3 Zombies, you need an item called Chunk of Flesh. This grotesque item has a chance to drop from any normal zombie enemy, but it is rare. Depending on how lucky you are with spawns in that game, you may need two or more, but potentially, one will get the job done. If you want a good way to find this item, start an exfil sequence to make a bunch of zombies spawn. When the helicopter arrives, do not jump on. Just kill all the enemies and look for the Chunk of Flesh. You do not need any particular item to make the item spawn; it's just a game of chance. That said, we found explosives and the LT53 Kazimir (the tactical equipment that creates a black hole) very useful in getting Chunks of Flesh to spawn.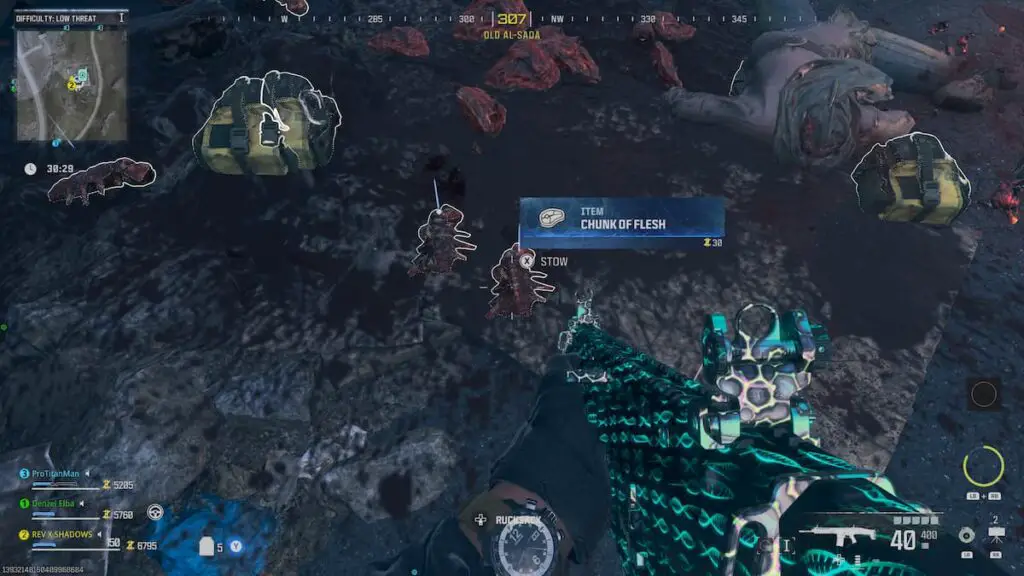 When you have at least one Chunk of Flesh, you need to find a Dog House. Unfortunately, these structures appear at random in every game and do not show on the map unless you are close to one. Keep on the lookout for a burning little building that has smoke billowing out the top.
When you find a dog house, all you need to do is interact with it and put your Chunk of Flesh inside. If you are in the first-tier threat area, one should work. Second tier dog houses need two, and the third tier requires three chunks. The further inside the damage tiers you do, the stronger the dog will be. If you put four in, you will get a challenge done if you haven't done it before. When you put enough in, the house will explode, and a friendly Hellhound dog with a unique name will follow you for the rest of the game.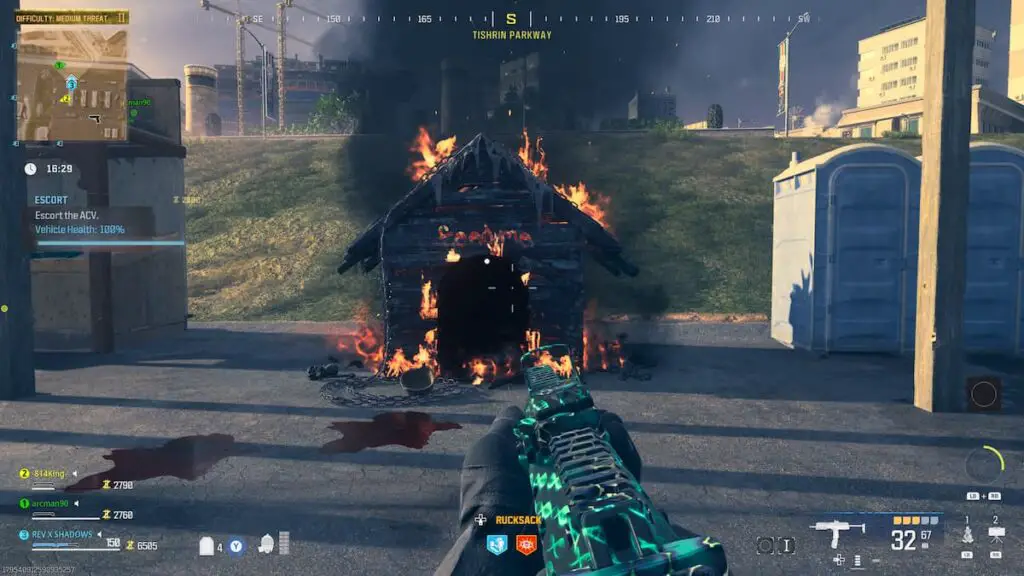 While you can't directly control the dog, it will automatically attack any enemies that are nearby. It can be killed, so try to help it if it gets surrounded. Its health will regenerate after not taking damage. It will also revive you and any squad mates that go down. This can cause issues if your squad doesn't stick together, though. In our game, our squad went three separate ways, and whenever a team member went down, the dog would teleport away, and it would be a long time before we saw them again. If your teammate goes down in a higher tier zone, your dog could be teleporting into certain death in some instances.
You can also get an achievement or trophy for petting your loyal canine friend. Depending on the dog that spawns, it may sit still when enemies aren't around and let you and your squad mates interact with it. Not all of them do this, though.
As of this writing, there is no known Easter egg to upgrade the dog, but there may be one. We will update this article if the community finds anything.