Easter eggs are certainly some of the most interesting inclusions in video games. Sure, we love the stories and gameplay of The Legend of Zelda, but being able to find secrets hidden in any game series is just an extra layer of enjoyment. Link's adventures already have a lot to them, but these oddities stand out to many when they are located. With that in mind, here are 10 of our favorite Legend of Zelda Easter eggs.
The 10 best Legend of Zelda Easter eggs
A Star Fox Arwing is in Ocarina of Time
Remember when the Star Fox series had a hopeful future? If you were born sometime in the 2000s, probably not, but in the 90s the original SNES and N64 games were very popular and seen as an up-and-coming franchise for Nintendo. The company doesn't seem to think about it much these days, but during the development of Ocarina of Time, it was at the forefront of its mind. While testing the Z-targeting mechanic, they inserted Arwings into the code that can still be accessed with various hacking and cheats. If you put them in now, they will fly around the area and shoot at Link.
Being named Thief after stealing from the shop in Link's Awakening
In Link's Awakening, there is a pretty standard shop where you can buy some much-needed items for your adventure. While collecting Rupees to pay for these items should be easy enough, some of the items are pretty costly. With that in mind, you can steal an item for free if you want. However, if you do this, every single character that would reference you by name will now call you THIEF, and if you ever go into the shop again, the owner will instantly kill you, so be sure you have everything you want from there before you do it.
Breath of the Wild has some very familiar locations
It's not rare for The Legend of Zelda to have similar names between games. For example, Link and Zelda in most of the games are descendants and reincarnations of previous Links and Zeldas. That being said, Breath of the Wild's map takes this a step further with tons of geography that you would have seen in previous Zelda games. For example, the Temple of Time and Lon Lon Ranch from Ocarina of Time can be found. There are also tons of references in the named locations, like Lake Saria, Mido Swamp, and lakes named after the Zora band from Majora's Mask.
Dancing ReDeads in Majora's Mask
ReDeads are some of the most frightening enemies in Zelda's history. The way they can freeze you in place with a scream and jump on you terrified us as kids. That being said, if you do some investigating with a Gossip Stone, you can find that a particular group of ReDeads in Majora's Mask were part of a royal dancing group. If you put on either the Captain's Hat, Garo's Mask, or Gibdo Mask, they will begin dancing as they once did in life instead of attacking you.
Ganondorf is easily distracted by fishing line, and bottles deflect his magic
Ganondorf is well-known for being an intimidating presence. When he is the main big bad in a Zelda game, you can expect to have a significant back-and-forth battle with him. While the Master Sword is your main weapon for these battles, you can sometimes use some odd items to help you defeat him. In Twilight Princess, if you pull out your fishing rod and throw your line around, he will be distracted long enough for you to strike him multiple times. In Ocarina of Time, you will have a volley match against him where you strike his magic blasts back at him. Instead of the Master Sword, you can use Empty Bottles to send them back. The absolute absurdity secures these as one of our favorite Legend of Zelda Easter eggs.
It's a secret to everybody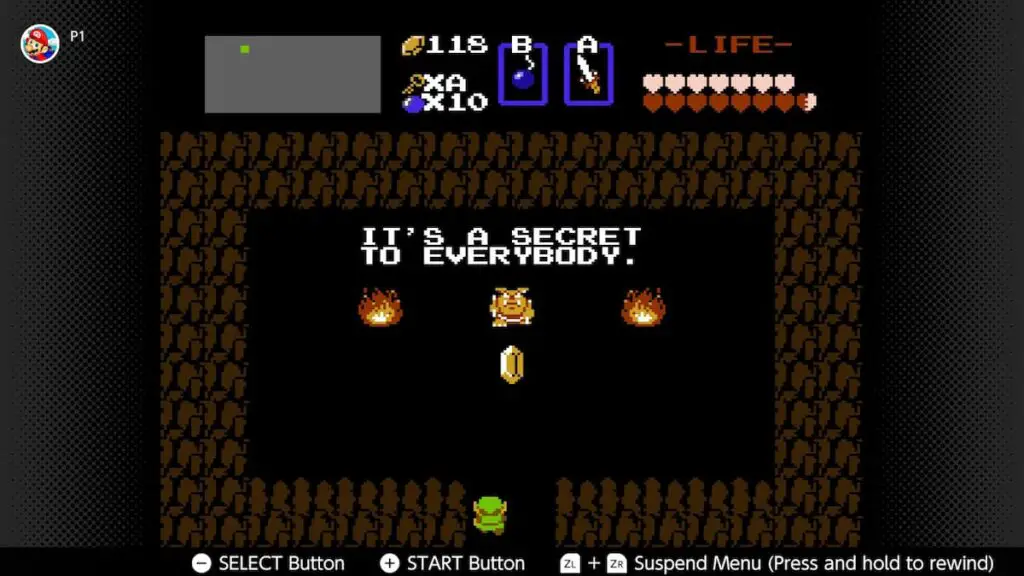 In the original Legend of Zelda game, you can open various secret entrances where you find a Moblin who will give Link some Rupees. When you enter, he utters, "It's a secret to everybody." You could probably write this off as being some shoddy translation work, but that phrase has gone on to be reused in just about every Zelda game since. Various characters will say something along the same lines to Link in numerous adventures.
Launching Gossip Stones into space
Gossip Stones are interesting markers for a few 3D Zelda games. Sometimes, they can give you important information about your surroundings, but if you don't know how to do that, you might think they are just random time-giving contraptions. That being said, you can have some weird fun with these little rock statues. If you explode a bomb next to one of these in Ocarina of Time, Majora's Mask, and Skyward Sword, it will count down and rocket into the sky.
Marin the pro crane player
In Link's Awakening, there are various times when Marin will follow you around the area. You can get some interesting interactions while she is on your tail, including when you go into Trendy Game, the crane game shop. Marin will ask to play. She will grab the owner and drop him in the prize area if you let her. Considering that she somehow gets the crane to go down without a button that lets her do that, the owner will call her a pro and kick you out.
Satoru Iwata and Robin Williams NPCs
All of the other Easter eggs on this list are pretty fun, but this inclusion is a somber reference to two important people with ties to The Legend of Zelda. The sad nature of it is really what nails it down as one of our favorite Easter eggs in the Legend of Zelda. While The Legend of Zelda: Breath of the Wild was in development, Satoru Iwata and Robin Williams both passed away. Iwata was the head of Nintendo from 2002 until he passed in 2015. He had a significant impact on many Nintendo properties you love today. Williams was a beloved actor who was also a big Zelda fan. He even named his daughter after the princess. In Breath of the Wild, you can run into two NPCs who have strikingly similar features and expressions of both of them, named Botrick and Dayto. For the former, he will direct you to see the Lord of the Mountain, a celestial creature also named Satori, which means enlightenment in Japanese and an obvious reference to the former president of Nintendo.
The Happy Mask Salesman's masks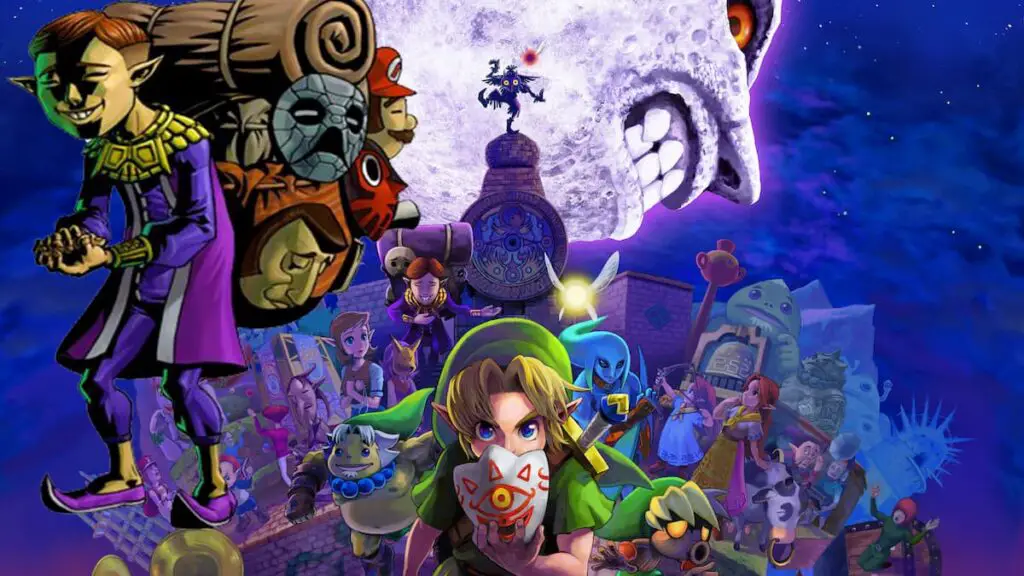 The Happy Mask Salesman is a curious person in Majora's Mask. While he does appear in Ocarina of Time, he plays a much bigger impact in this sequel, where he has access to various supernatural masks and gives Link a song that transforms a spirit's final being into a mask that can transform the wearer. If you take a look at the masks on his back, you will notice some interesting inclusions. For starters, a Mario mask is seen on his back. Did the Happy Mask Salesman encounter the plumber and turn him into a mask? There is also a mask with the same screaming face as the Mirror Shield from later in the game over his right shoulder.