How do you open the Mayam Shrine in The Legend of Zelda: Tears of the Kingdom? If you have found this Great Hyrule Forest Sky shrine, you might be confused about how to beat it. You need to take a crystal a pretty far distance. Here is how to open the Mayam Shrine in Tears of the Kingdom.
How to complete The North Hyrule Sky Crystal in Tears of the Kingdom
Like other similar shrines, you must first interact with the Mayam Shrine to get it started. A message will appear saying you need to deliver a crystal to it for a reward. The green beam will show that the crystal is to the south on the back of a Flux Construct I. You can make it drop by pulling on its glowing cube with Ultrahand or attacking it. You don't need to defeat the mini-boss, but we recommend it.
Before going any further, we recommend having some Zonai Rockets in your inventory. Having some extra makes it a lot easier to manage.
Use the Ultrahand to grab the crystal and go to the end of the island, where you will see a platform with some Rockets laying near it. Attach the crystal to the platform's top so it will not fall off. Next, attach about four of the Rockets to the side of the platform, pointing up. Leave the rest on top of the platform but do NOT attach them yet. When ready, jump on top and activate the Rockets to be sent into the air.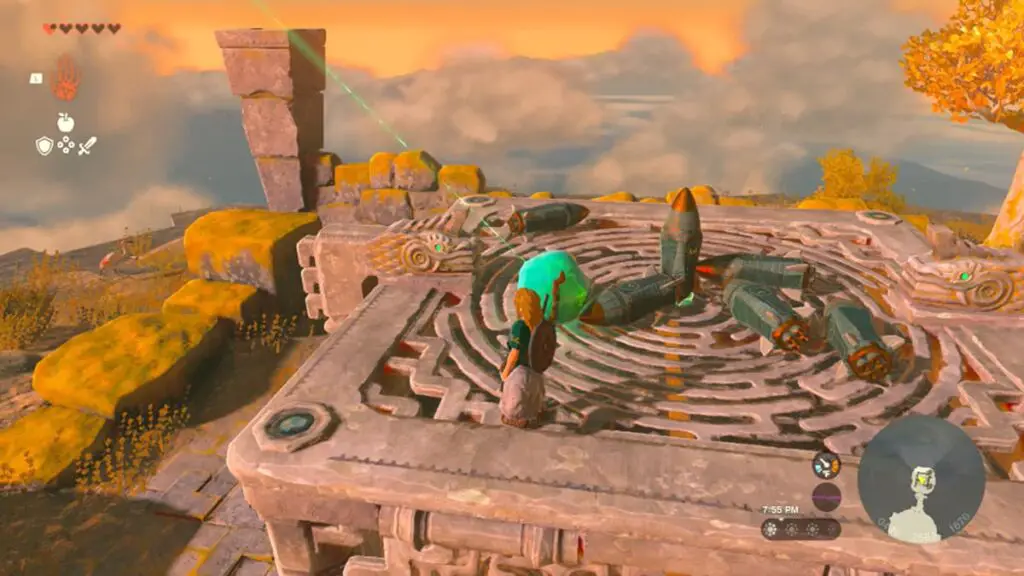 When the Rockets stop, you should be just above the island you need to return to. Place some more Rockets on the platform pointed towards the large island. Aim for the middle of it and not the shrine itself, or you may be stuck in the middle of nowhere. If you overshoot the island, don't forget you can use Recall on the platform to send it backward in time.
Activate the Rockets again and you should float over the island. Use Ultrahand on your crystal, shake it loose, jump onto the island, and take it to the shrine. The Mayam Shrine will open up, and you can open the chest inside and claim your Light of Blessing.