Which starting class should you play in Lords of the Fallen? What is the best starting class? There are 10 classes to choose from if you have unlocked the Dark Crusader class in Lords of the Fallen. Each class has something unique about it. For instance, the Pyric Cultist has a focus on the Strength and Inferno stats, making it great for long-range.
Depending on the type of build you want to go for, certain classes are better than others. Of course, there is also a best way to start the game that will give you the best outcome. Which class should you choose in Lords of the Fallen? Here is the best starting class.
What is the best starting class in Lords of the Fallen?
The best starting class in our opinion is the Dark Crusader followed by the Pyric Cultist. Let's break down exactly why we label these classes as being the best to start with in Lords of teh Fallen.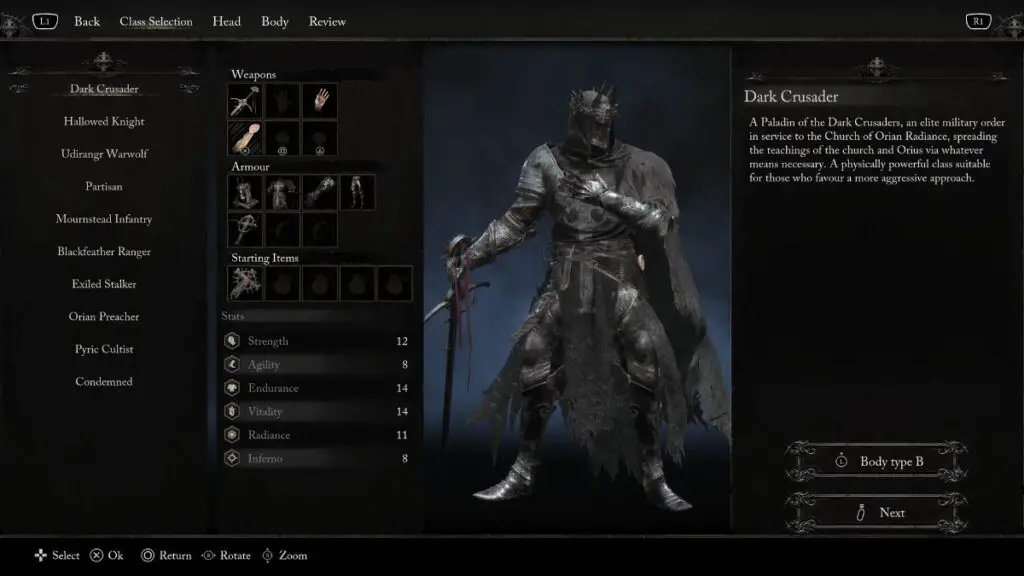 Dark Crusader Class in Lords of the Fallen
The Dark Crusader is the poster class for Lords of teh Fallen and comes with some interesting items that will help you in the game. First of all, the armor set is very beefy and will help you survive many hits from both regular enemies and bosses. This makes the class invaluable. After testing each of the classes, we found the Dark Crusader had the best versatility for the beginning of the game.
Thanks to the Dark Crusader's evenly distributed stats, you can easily wield strength-based weapons or switch over to agility if you want more movement. The same can be done for the Radiance and Interno stats. You begin with slightly more Radiance but can easily increase Inferno if you want to try pyromancer spells.
Pyric Cultist Class in Lords of the Fallen
Moving on to the Pyric Cultist, this class doesn't offer as much versatility as the Dark Crusader but it does offer something invaluable – great ranged damage. You start off with a simple fireball-style spell that does a large amount of damage. With this spell, we were easily able to run the beginning of the game and defeat Pieta without any difficulty.
The major downside to choosing the Pyric Cultist is the lack of versatility. You will need to stick with the Inferno stat or it becomes wasted. Luckily, there are plenty of Agility and Strength-based weapons that require Inferno to wield properly, making the class very viable later on in the game. You can even mix in some of the Radiance stat for some extra spells.