Baldur's Gate 3 is one of the few games out there that allows you to see nudity. This option is pretty controversial to some. For instance, it was once a hot-button issue for games like Cyberpunk 2077. With the ability to customize your character's genitals in Baldur's Gate 3, you can get in on the hottest cutscenes and choose what content you want yourself exposed to.
How everything looks on your character is slightly dependent on what race you choose when you create your character. After character creation, you might need to censor the graphic imagery due to streaming or family members. We have your buns covered. Here is how you toggle nudity in Baldur's Gate 3.
Baldur's Gate 3 – How to toggle nudity and hide your genitals
For starters, you can simply hide your character's genitals by having them wear clothing or armor. This will automatically hide anything provocative. If you want to take it a step further and toggle the nudity off, you can do so by following these steps:
Open the menu by pressing options or the ESC key
Select options from the menu
Navigate to the accessibility menu
Locate explicit content
Toggle show genitals off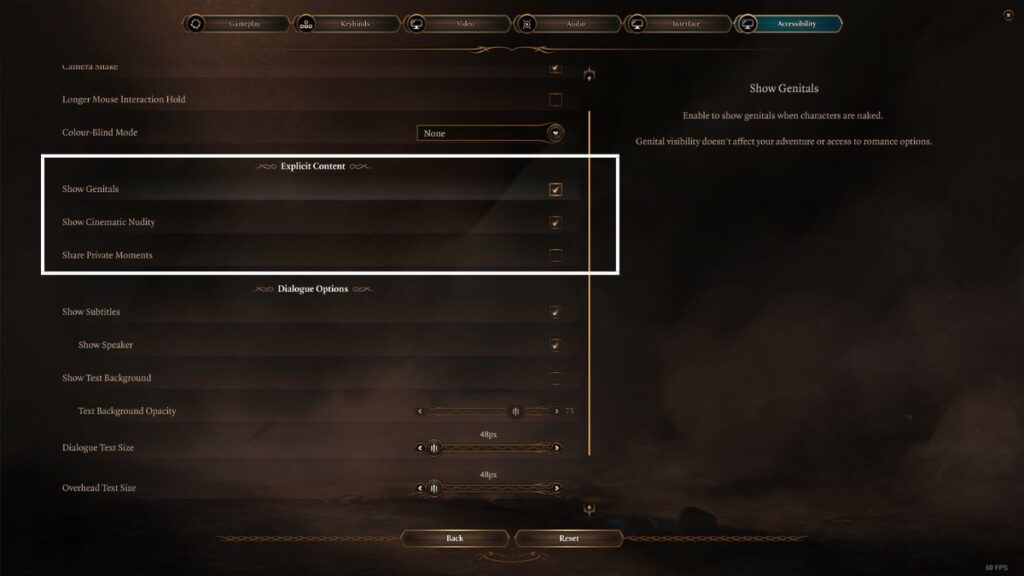 That is all there is to it if you want to toggle the nudity off in Baldur's Gate 3. You simply need to choose not to show the genitals. Of course, you can also change the other option which is to show cinematic nudity. Turning this off will hide nudity during all cutscenes. So if you choose to not kill Lae'zel and instead romance her, you won't see nudity during your private cinematic.
Once nudity has been turned off, if you take your character's clothing off, a leaf will be used to hide their lower genitalia. Upper portions of the body will simply be blurred so you can still see the shape of the character.