What are the weight thresholds in Lies of P? Every soulslike game will have you dealing with a bit of inventory management. In Lies of P, you will find many weapons and armor types that will increase your weight. The more you carry, the more you weigh and the more you will be slowed down.
If you are carrying too much, you will notice that your dodges are slower. If you carry too much, you will lose the ability to dodge or perform the dreaded "fat roll." When that happens, you will have trouble defeating bosses like the Scrapped Watchman. This guide will tell you everything you need to know about the weight thresholds, encumbrance, and stamina in Lies of P.
What are the weight thresholds in Lies of P?
The weight thresholds in Lies of P are 60%, 80%, and 100%. At 60% of your carrying capacity, you are considered to be slightly heavy. At 80% of your carrying capacity, you are considered heavy. Finally, at 100% of your carrying capacity, you are considered to be very heavy.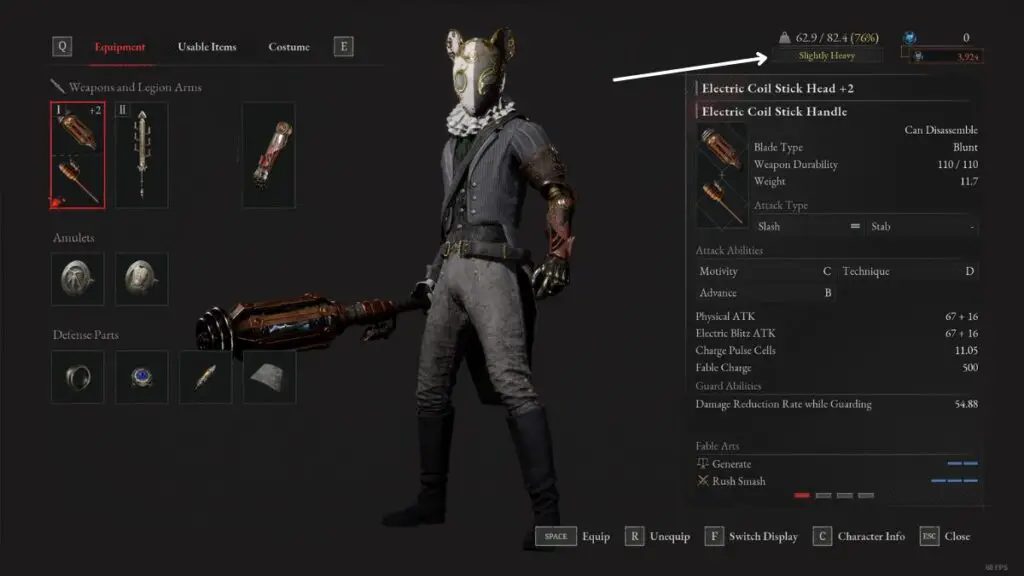 You can view your weight by going to the character menu. Once there, you can view your weight percentage in the upper right corner of the screen. This will let you know what weight category you fall under.
Depending on what weight threshold you have crossed, you will move a certain amount slower. You can raise your carrying capacity, by putting levels into your Capacity stat. This will raise the number required to hit the different weight thresholds.
How does encumbrance affect you in Lies of P?
Encumbrance affects you in Lies of P by slowing down your character, giving them fewer invincibility frames (I-Frames). I-Frames are what make it so you can evade an enemy's attack when you dodge. Having fewer I-Frames means that you will be more likely to get hit by an attack.
Another difference you will notice is the rate of your attacks will slow down. The heavier you are, the harder it is to swing your weapon. This will also leave you more open to attacks, allowing you to get hit more often than someone with less weight.
How to manage your weight in Lies of P
To manage your weight, you need to adjust what you have equipped. Certain items like heavy weapons have considerable weight to them, making them more difficult to wield. Limiting the number of weapons you have equipped will drastically lower your weight.
You can also limit your weight by watching what amulets, frame, converter, cartridge, and liner you are wearing. Each of these has a weight so make sure to look at it before you equip the item.