In Lords of the Fallen you can journey through Axiom and Umbra alone or partner with a friend. The game can be quite challenging so teaming up helps even the odds. You're able to invite an ally on your friends list or choose the matchmaking option to find someone else to play with. The game also includes an option to fight other players if you wish to take part in some PvP. It's available on PC, PlayStation 5, and Xbox Series X/S, and if you're curious as to whether or not Lords of the Fallen allows crossplay, here's what you need to know.
Does Lords of the Fallen allow crossplay?
Yes, crossplay is part of the game but only between PC players who want to connect with others on PlayStation and Xbox. Unfortunately, you are not allowed to connect with players between consoles. So, if you own it on Xbox, you can't play with people on PlayStation.
HEXWORKS announced the feature was temporarily disabled on October 14 due to player feedback.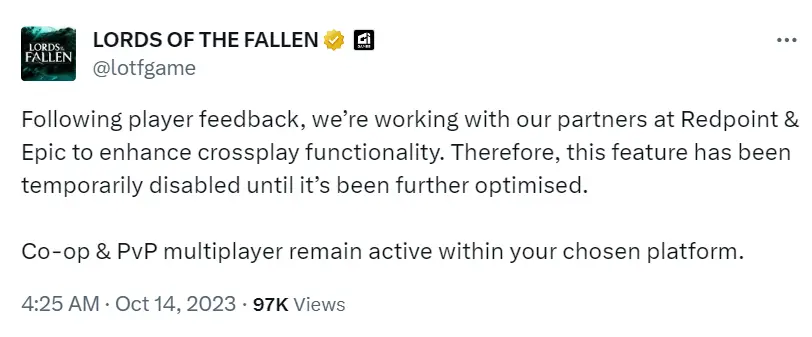 For those wishing to use crossplay, it works in a number of ways. You can choose Beckon Lampbearer to host a game or Accompany Lampbearer to join someone else's game. This PvE option lets you team up with another player and complete quests together. The second feature, Slaughter Lampbearer, is for PvP and lets you fight another player.
The game is certainly challenging by yourself so partnering with another player is a smart move if you want to make it through the campaign. However, if you want a more difficult challenge, you can open your realm to other player invasions to make things all the more difficult for you.